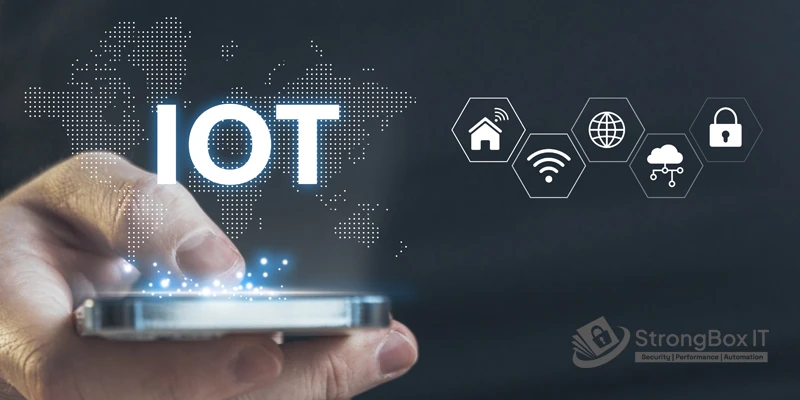 In the rapidly expanding world of the Internet of Things (IoT), where devices and networks are interconnected like never before, ensuring the security of this complex infrastructure is of paramount importance. IoT security testing plays a critical role in identifying and addressing vulnerabilities in IoT  devices, networks, and systems. By subjecting IoT infrastructure to rigorous testing methodologies and simulations, businesses can mitigate potential risks, protect data integrity, and build trust with their customers and stakeholders. In this era of increased connectivity, implementing robust IoT security testing measures is a fundamental step toward safeguarding against cyber threats and ensuring the resilient operation of IoT ecosystems.
At StrongBox IT, we understand the complexities of the IoT infrastructure and the vital role that stringent security measures play in safeguarding your operations.
What makes IoT devices vulnerable?
IoT devices and networks, while highly beneficial, have also broadened the potential attack surface for cybercriminals. These connected devices can become a gateway for unauthorized intrusion if not adequately secured.
IoT devices can be vulnerable to cyberattacks due to several factors that exploit weaknesses in their design and implementation. Some of these factors include:
Inadequate Security Measures: IoT devices are often designed with a primary focus on functionality and rapid deployment, with security taking a backseat. This can result in insufficient security measures and lack of robust security protocols.
Weak Authentication and Authorization: Many IoT devices have weak or hardcoded default passwords that are either easy to guess or remain unchanged by users. Attackers can exploit these vulnerabilities to gain unauthorized access to the devices and control their functionality.
Lack of Regular Updates and Patches: IoT devices often have limited or no mechanisms for automatic updates or patch management. This leaves them vulnerable to known security vulnerabilities that could have been patched with software updates.
Poorly Secured Communication Channels: Insecure communication protocols and weak encryption mechanisms can expose IoT devices to eavesdropping, data tampering, and impersonation attacks.
Vulnerabilities in Third-Party Software and Components: IoT devices often incorporate third-party software and components, including open-source libraries and firmware. These components may have their own vulnerabilities or may not be updated regularly, posing a potential risk to the overall security of the device.
Physical Vulnerabilities: IoT devices deployed in unsecured physical environments can be physically tampered with or stolen, compromising their security.
Addressing these vulnerabilities requires a holistic approach that considers secure design principles, regular software updates, strong authentication mechanisms, encryption of communication channels, and a robust supply chain security process.
This is where IoT security testing comes into play.
Our IoT Security testing services are designed to identify vulnerabilities and rectify them before they can be exploited, helping protect the integrity of your systems, maintain client trust, and ensure regulatory compliance.
IoT Security Testing Benefits
IoT security testing offers numerous advantages for businesses in a connected world. Some of the key benefits include:
Improved Security: IoT security testing is critical to assessing the overall strength of a company's defense against cybercriminal attacks targeting IoT devices. It helps identify and rectify vulnerabilities before they can be exploited, ensuring the integrity of systems and data.
Risk Management: By conducting thorough security testing, businesses are able to identify and mitigate potential risks associated with their IoT infrastructure. This can help protect against data breaches, financial losses, and reputational damage.
Regulatory Compliance: Ensuring that your IoT devices and networks comply with relevant regulations and accessibility standards is an important aspect of IoT security testing. Meeting compliance requirements can help businesses avoid costly fines and negative impacts on their reputation.
Confidence and Trust: IoT security testing can help build trust and confidence in your IoT ecosystem, which is essential for user adoption and customer satisfaction. By demonstrating that cybersecurity measures are in place, businesses send a strong message that they prioritize the security of their customers' data.
Efficient Performance: IoT security testing also enables efficient performance of IoT devices by detecting issues that may impact device functionality, communication, or data transmission. Addressing these issues can help businesses ensure optimal performance and avoid potential setbacks.
IoT security testing is a comprehensive process designed to identify threats and vulnerabilities in IoT devices and mitigate them before they become active security risks. The process involves diverse techniques and methodologies, which is outlined below:
Device and Network Assessment: This step involves a thorough examination of an IoT device's ecosystem, its software, and the communication protocols it utilizes. The goal is to understand the workings of the device, identify potential risk areas, and establish a testing framework.
Penetration Testing: This testing methodology is akin to a real-world attack simulation performed on the IoT device or network. It's designed to discover vulnerabilities that potential cyber threats could exploit.
Risk and Compliance Assessment
Our IoT security testing also includes a thorough risk and compliance assessment. We ensure that your IoT devices and networks comply with the relevant regulations and accessibility standards.
Security Testing using specifics: On IoT devices, best practices recommend checking for default credentials that should be changed during initial setup, enforcing complex passwords, and checking for potential vulnerabilities such as cross-site scripting (XSS), SQL injection (SQLi), and cross-site request forgery (CSRF).
Black Box Testing: In this method, testers approach the system as a real-world attacker would, using only the information that is publicly available.
Detailed Reporting and Mitigation Strategies
Upon completing our security testing, we deliver a comprehensive report detailing identified vulnerabilities, potential threats, and recommended mitigation measures. Our goal is to provide you with a clear roadmap for enhancing your IoT security posture.
Ultimately, the IoT security testing process requires a blend of different methodologies to ensure a robust and secure IoT environment. Effective security testing can help protect against potential threats, enhancing the overall security posture of IoT devices and networks.