Misconfiguration occurs whenever the system fails to meet the security framework standards. It may occur at the application server-side, application stack level, or even at the network side. Non-identification of these flaws may sabotage and compromise the entire system. It is listed as the sixth most serious threat to OWASP's top 10 vulnerabilities.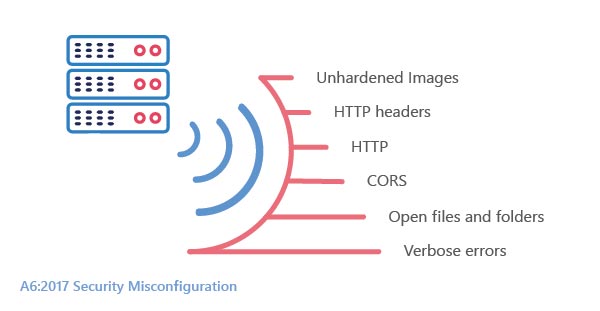 Misconfigurations are generally caused due to man-made errors. It usually arises when security settings are not properly defined. Non-maintenance and failing to update the application from time to time to mitigate new advertisements.
It is an easy target for the attackers and it is easy to detect one. 
Once the system falls into the trap of vulnerabilities due to lack of proper security, it may be very difficult to retrieve the system.
What causes security misconfigurations?
Unpatched systems
Default/ Out of the box settings
Unencrypted files
Old and outdated web servers
Unsecured web applications
Web application and cloud misconfiguration
Insufficient firewall protection
These flaws will help the attackers to explicitly access the data which may lead to system compromise
Prevention of security Misconfiguration
A simple platform with required features, components, documentation, and samples. 
Uninstall or do not design unused features and frameworks.
Make sure to share the necessary security directives to the clients.
Deploy an automated process to validate the effectiveness of configurations and settings in any sort of environment.
An automated task has to be scheduled to review the update configurations of all security notes, updates, and patches as a part of the patch management process.
Timely review the cloud storage permissions especially the bucket permissions.
An application must be architectured in such a way that it has to be well segmented at the time of design. It has to provide separation between components or tenants, with containerization and cloud security groups.
One has to deploy a rigid firewall that may identify any sort of security misconfiguration and alert the user.
WAF – Web Application Firewall
Security Misconfiguration can be prevented with the help of a web application firewall (WAF). A WAF serves as a filter between the server and the web traffic. 
A WAF works based on a set of rulesets, the most common type of ruleset used across any WAF is OWASP Top 10 ModSecurity rulesets. StrrongBox IT's Modshield SB works on the core ModSecurity rulesets, which can avert SQL injections during the time of the attack.
Get a 30-day free trial.