What is virtual patching? 
Virtual patching or vulnerability shielding is a security policy of the enforcement layer. It analyses transactions, intercepts attacks in transit, and prevents malicious traffic from reaching the web application. The virtual patch does not repair the actual faulty application but intends to establish a partly upstream, additional – security mechanism to prevent the exploitation of weakness. There are several ways to implement virtual patching. Some of them are as follows
Upstream as a standalone Web Application Firewall (WAF).
As a plugin for the executing web server.
Directly on the application side by configuration adaptation.
The benefits of Virtual Patch are as follows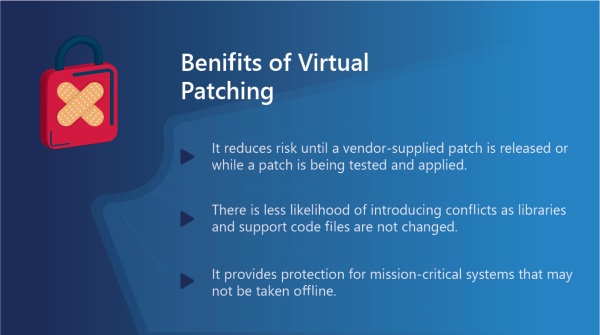 It is a scalable solution as it is implemented in a few locations vs. installing patches on all hosts.
It reduces risk until a vendor-supplied patch is released or while a patch is being tested and applied.
There is less likelihood of introducing conflicts as libraries and support code files are not changed.
It provides protection for mission-critical systems that may not be taken offline.
It reduces or eliminates time and money spent performing emergency patching.
It allows organizations to maintain normal patching cycles.
Once a virtual patch has been implemented and proved effective, there is no need for a  patch.
If the virtual patch is proved effective, it cuts down the cost of a permanent patch.
Why is the WAF sometimes called Virtual Patch?
Like the Virtual Patch, a WAF serves as a filter between the server and the web traffic.
It prevents an exploit from a newly discovered vulnerability, which is also a function of WAF.
A WAF can be deployed as a virtual patch and can perform its functions.
A WAF works based on a set of rulesets, the most common type of ruleset used across any WAF is OWASP Top 10 ModSecurity rulesets. StrongBox IT's Modshield SB works on the core ModSecurity rulesets, which avert vulnerabilities during the attack. Learn more about Modshield SB